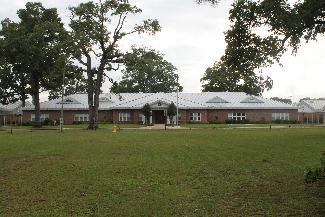 Nestled under majestic oaks just a few miles from Florida's highest point in north Walton County, Paxton School has proudly served the surrounding community since its founding in 1939. Boasting a sprawling brick campus, the institution uniquely serves as a home to many students for the entire thirteen-year journey, from the first wide-eyed days of kindergarten through their final teary-eyed high school graduation, all on one campus. The kindergarten through twelfth grade school is a decidedly family environment, providing a one of a kind public education to its constituents.
Whether it be award-winning hogs from the school's renowned agricultural program, six boys and girls basketball state championships, decades of winning ball seasons, the accolades of high school star turned WNBA player, or its being names an "A" school for 20 years, it is clear that the 100-member staff takes seriously its mission to provide a stellar educaion.
The education of its 829 students at last count, takes place in the traditional classroom, as well as in a variety of specialized academies and programs. High school students may choose to participate in one of the academies including early childhood, agricultural science, aerospace, or administrative office specialist, which lead to real-world industry certification. In addition, the school offers a variety of dual enrollment and AP courses.
Here at Paxton, we strive to educate the whole student. Our school motto is:
Bringing Our Best Can Achieve Top Success
in Character, Classroom, Competition, and Career